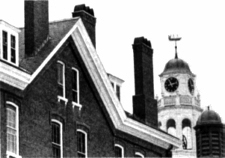 Fiction can best be illustrated by the reader's imagination, and suggestions as to the "correct" picture are disconcerting and often disappointing. And yet, a writer's work begins, somehow, in the time and place of his own experience, and for John Knowles these were the final years of the Second World War, at the Phillips Exeter Academy. It was that experience which he transformed into A Separate Peace, published fifteen years after his graduation.
I have not set out to reconstruct the Exeter scene of 1945. Nearly all of these pictures are recent [1970], with exceptions in the case of an important building or room which has been removed or remodeled. Although there is much new construction taking place on the campus, many of the old buildings have not been changed.
To schoolboys of today that war has become ancient history, but the encroachments of war upon young men's lives remains essentially the same. And what makes A Separate Peace impressive is the way it reaches into the existence of boys at school, an intense, competitive, often lonely existence, from which adults are largely excluded. Because this basis of living does not change, the boys pictured here are, with allowances for fashion, like those of any time. These photographs are not meant to dispel the mystery of their unique world, any more than facts about an author can rob a novel of its art. Perhaps they will add new subjects for speculation.
I am grateful to Richard Niebling, whose suggestions led to this undertaking, to Paul Sadler Jr. for planning and designing this essay, to Bradford Herzog for his evocative photographs, and to John Knowles for permission to use excerpts from his novel.
---- Thomas Hinkle, Editor
I walked along Gilman Street, the best street in town. The houses were as handsome and as unusual as I
remembered. Clever modernizations of old Colonial manses, extensions in Victorian wood, capacious Greek Revival temples lined the street, as impressive and just as forbidding as ever. I had rarely seen anyone go into one of them, or anyone playing on a lawn, or even an open window.
It was early afternoon and the grounds and buildings were deserted, since everyone was at sports. There was nothing to distract me as I made my way across a wide yard, called the Far Common, and up to a building as red brick and balanced as the other major buildings, but with a large cupola and a bell and a clock and Latin over the doorway--the First Academy Building.
In through swinging doors I reached a marble foyer, and stopped at the foot of a long white marble flight of stairs. Although they were old stairs, the worn moons in the middle of each step were not very deep. The marble must be unusually hard. That seemed very likely, only too likely, although with all my thought about these stairs this exceptional hardness had not occurred to me. It was surprising that I had overlooked that, that crucial fact.